7 Days In Hanoi - Vietnam 2022
Updated: Feb 1
📍Hanoi - Northern Vietnam
✈️ BHX to DXB to HAN
🛌

£30 a night
💰

£1 = 28,000 Vietnamese dong (roughly)
Vietnam: Pre-departure
One bright morning, I randomly had a quick internet search on countries that do not require quarantine on arrival and stumbled across Vietnam. They had recently changed their travel requirements so covid tests and vaccines were not even necessary to enter the country. So me being me, I said "I'm goingggg" and booked my flights for an almost month-long trip. The plane ticket prices were not exactly cheap, roughly starting at £1000 for non-direct flights. I could have paid less if I flew from London or chose a different airline but I wanted to collect Airmiles. Last minute long-haul trips are rarely a wise decision.
British passport holders are currently eligible for a 15 day visa free trip. I intended to stay longer so applied for a 30 day visa at the cost of $25 which was a relatively smooth process, I received my visa within a few days.
Through online research, I found out there's a lot to do in Vietnam, so much in fact, that I had no idea how I would fit everything into my itinerary. I wanted to see a ton of cities and villages, so I knew this would have to be a backpacking trip. Although I'm comfortable with solo travelling, I was a bit apprehensive about long-distance travel within the country. I knew I definitely wanted to experience an overnight sleeper train or bus, but safety-wise this raised a big question mark in my mind. To silence my concerns, I prebooked a tour where I would be travelling with other solo travellers midway through my journey.
Side note - I also found out that I would be travelling during the monsoon season which filled my soul with fear, however, there was no way I was losing my flight money so I still jumped on that plane hoping for the best. Yolo.
Hanoi - Vietnam




Hanoi is the capital city of Vietnam, situated in the northern region of the country. It's a rich blend of traditional Vietnamese culture with pockets of modern architecture. Hanoi is bursting with activities that pique a range of interests, it's clear why the capital is a tourist hotspot and a hub for many backpackers. The capital is a great starting point for your trip as it's quite central to places such as Sapa where you can go hiking, Ninh Binh where you can explore rice fields and Halong Bay a must see for stunning mossy mountains strewn across serene emerald waters.
Hanoi will always be one of my favourite cities in Vietnam… maybe because it was where I got my first taste of the country. I met so many great people and immersed myself in a culture so different from my own. This is the furthest I've ever travelled alone, which was a gratifying experience in itself. One thing I loved about Hanoi is no one really gave a heck that you're a tourist. I don't think I ever really felt uncomfortable despite looking quite different to most people I encountered. I was actually shocked at how friendly people were, random people in the street just casually struck up conversations. 10/10 experience.
Airport To Hanoi
I decided to pre-book my transfers to my hotel online for about £10, didn't fancy flagging down a taxi after 19hours of travel. The green taxis in Vietnam always seemed to have decent prices and I was never once ripped off even with the metre running. Alternatively, you can use the app "Grab" which is like South East Asia's version of Uber. This was my preferred method of acquiring transportation as it was always ridiculously cheap and you have the option of selecting a car or a motorbike which I loved. You will need a local number to use this service though so be sure to buy a SIM card as you exit the airport.
Hanoi airport formally known as Nội Bài International Airport, is about a 30minute drive away from the old quarter of Hanoi. From the moment I stepped out of the airport, I was hit by a wall of stiff heat. No breeze whatsoever! The humidity was insane! For a moment I wondered how on earth I would survive a month in these conditions. The journey to the hotel was routine although my driver stopped midway to drop something off to his friend on the side of the road, which was one of them moments where you realise you're not in the UK anymore.
7 days in hanoi Youtube travel vlog!


Day 1 - Hanoi, Old Quarter
I arrived at my hotel absolutely stinking and sweating after a full day of travel as well as fighting with the 38 degree heat. The staff at La Nueva were the nicest I've honestly ever encountered at a hotel, welcoming, friendly and genuinely helpful. They offered me a nice cool drink while they sorted out my room and one of the guys gave me a map, marking out some places I was interested in visiting. I had a quick look at the rooftop bar, before going back to my room to freshen up so I could head back out to explore the local area.
The biggest shock to the system when I stepped outside was trying to cross the road! If you've ever been to Hanoi you'll know exactly what I'm talking about. There are about a million motorbikes speeding down the street and drivers do not care about traffic lights. Literally, no one will stop to let you cross the road. I learnt the hard way that you just have to walk with confidence. Sounds crazy but you simply walk in front of the traffic at a steady pace, don't make eye contact with the drivers and the motorbikes will just weave around you. Not for the faint hearted, but you do get used to it.
My first stop on my walk was to the Viettel phone store where I purchased a SIM card for about £10. It came with "unlimited" data which had a fair usage policy of 4Gb a day. After reconnecting with the world; I stumbled upon Hoàn Kiếm Lake, a small gem of tranquillity in a seemingly hectic city. I ended my evening with Bánh mì which is a beautiful baguette-type sandwich. You pick from a range of fillings, amazingly all the ingredients are fresh to the point where you can actually see the food sellers grilling the meat or frying the egg. This cost me 10,000 Vietnamese Dong which is equivalent to about 35p in the UK. This was the cheapest Bánh mì spot I found throughout my trip, it was recommended to me by the hotel staff. Other eateries I visited in the country Bánh mì cost me on average 20,000-30,000 Vietnamese dong which still isn't bad, to be honest, that's about £1 ish.
A good tip for finding inexpensive food is to eat where the locals eat. Regular locals with regular jobs, not the millionaires.
Banh Mi being prepared
Vid: Bánh mì
Day 2 - Street food tours!


I'm definitely not the world's biggest foodie. To be totally honest I rarely eat anything I'm unfamiliar with. For this trip, however, I wanted my tastebuds to come alive and actually experience some local Vietnamese cuisine. I booked a walking food tour online (the night before) for about £20 and was collected at 11 am from my hotel by my tour guide James. I was joined by a super friendly couple on the tour who were also from the UK.
Walking food tours are a great way to familiarise yourself with the area you're staying in and find some great food spots off the beaten track.
I sampled some new dishes such as pho, shrimp cakes, sticky rice and banana flower salad. I also tasted one of Hanoi's most talked about drinks, "Egg Coffee." It tastes a lot better than it sounds, it's basically coffee with a sweet foam on the top made from whisked egg whites. Actually, tell a lie, I don't drink coffee, I had an "egg hot chocolate" instead. Another one of my favourites was kumquat iced tea, it doesn't look like anything special but trust me after one sip you will fall in love. Literally from this day onwards, I drank this iced tea multiple times a day, everyyyyyyday! It's absolutely beautiful. Exquisite in fact. I've been on a quest to find this since I arrived back in the UK.
After the food tour, I returned to my hotel and had a quick nap (itis), when I arose I was immediately bored. So me being me I randomly decided to book another food tour but obviously, in my haste, I couldn't read and accidentally booked a beer tour. I do not drink beer. Was a nice evening, food was included too but I was literally drinking beer just to be polite. The guide was nice too and showed me some new places.
All in all, this was a great day. I was proud of myself for trying so many different types of food, it's a big achievement for me as I don't eat food with certain textures. Weird I know. It was also quite cool going to restaurants that solely have chopsticks, (no silverware) so I had to learn on the job.
Day 3 - Cooking class! (Vlog coming soon)


This was up there with one of my favourite experiences in Hanoi. Simon the chef/tour guide was hilarious and made the class so enjoyable. The day started with a trip to Chợ Ngọc Hà market where we purchased the ingredients needed to prepare the meal we'd be cooking later. This was an experience in itself. The street was lined with little shops and stalls scattered across the pavement. Sellers were chopping fresh meat, there were also little basins with live fish swimming about. A lot was going on, the smells, the sounds, the sights.
The indoor section of the market was even more interesting as the meat sold there was... exotic to say the least. I was also amazed to see motorbikes weaving in and out of the narrow aisles between the stalls, with drivers stopping to purchase their goods. We had the opportunity to sample various fresh herbs and vegetables, I was quite surprised the market sellers didn't mind.
Side note - I bought a belt here for 300,000 dong as my shorts were falling down. The desperation made me forget to barter or convert the currency. I spent practically £10 on a fake designer belt😂.
Anyway, back to the cooking class! After we'd gathered all of our food supplies we set off for the Rose Kitchen, today's venue. I will keep this brief as I could talk about this all day, I loved every second. I'll make a more detailed vlog and blog post at a later date. This workshop was a great way to find out how traditional Vietnamese meals are made, from the ingredients to the techniques, it was a great learning experience. With the amount of work that goes into thinly chopping the veg in spring rolls, I definitely will not be making them again at home. After making a variety of dishes from scratch including banana flower salad and Bún Bò Huế (noodle soup) we got to eat. It was a feast.
I booked this on Air BnB experiences which is a great way to find affordable excursions with your money going directly to local people. This set me back £28 but was well worth the money as it included, a market shopping experience, a guided cooking class, free drinks and of course a delicious feast at the end.
Day 4 - Exploring temples, museums, and beer street


On day 4, I met up with a girl from Thailand who I'd met on an online travel group. Hey girl 😂. This was such a random day. We stopped for a drink in a random park and got chatting with another solo traveller who then joined us on our little adventure. We went to train street later that day but just missed the train😭. Initially, there were 3 of us visiting museums and temples but the group expanded a lot throughout the day. Crazy to think you can be having a good time with people from all different countries that you've known for less than 24 hours. That's one thing I love about travelling solo though.
Side note - A random man working at the temple offered to take this pic of us without being asked. People were so friendly.
Across the weekends, Hanoi's old quarter comes to life. From about 7pm Friday-Sunday, the streets surrounding Hoàn Kiếm Lake are closed to vehicles. This is a nice, refreshing break from fearing for your life every time you cross the road. Stages are erected in the middle of the road, on roundabouts and music fills the air. As you wander through the pedestrianised area you'll find food vendors, street performers and live events. It's surely an unmissable night out if you're ever in Hanoi.
There's also a night market down one of the streets that's open from about 7/8pm. It's quite peaceful as markets go, no one harasses you to buy anything and the sellers are friendly. I wouldn't particularly recommend it unless you're looking for souvenirs you can pretty much find anywhere. Nothing stood out to me but it was okay to have a quick look around.
One particularly popping road is beer street, officially Ta Hien Street. I found this place by accident and was shocked at the contrast with how this place appears during the day. When the sun is up it's just any unassuming typical Vietnamese street. As soon as the evening hits the restaurants and bars are open and there's a sea of little plastic chairs in the street. Be sure you know what food you're ordering though, I thought I paid for chicken wings and ended up with fried chicken feet 😂. Great night though, lots of street performers.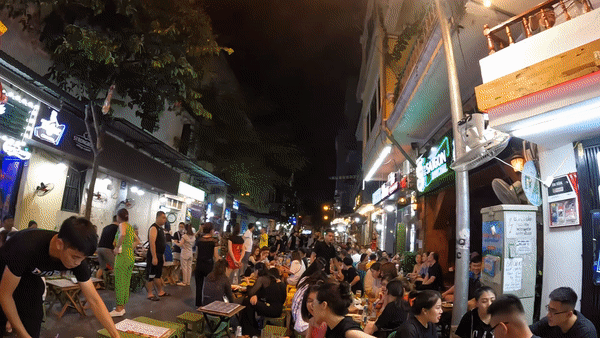 Day 5 - Train street, Ho Chi Minh Museum, military history museum and beer street (again)




I had an educational day out with someone I'd met the night before. My knowledge of the war and general Vietnamese history was minuscule prior to this trip. I had a vague understanding that Vietnam and America were opps back in the day but that's about it. The military history museum was amazing! There were tanks, weapons and fighter jets that the US had left behind on display in the gardens. No protective glass or anything you could physically touch the planes if you wanted to, (obviously I didn't). Ho Chi Minh museum is also worth a visit, lots of information. Most museums have a small entry fee of 30,000 dong on average which is roughly equivalent to just over £1.
Later on that day we returned to train street, in the hopes of actually seeing a train speeding along the tracks. When we arrived someone told us that we just missed the train so naturally proceeded to mess about plus have a photo shoot on the rail lines. Then I heard what sounded like a car beeping in the distance and just ignored it thinking it must be traffic from the nearby road. Out of nowhere some locals appeared and dragged us off the tracks and into their shop, I was a little confused a first. Then within literally 10 seconds, a train passed at full speed hammering across the same train tracks I was skipping across moments before. I caught all of this on camera. After the adrenaline wore off I was absolutely shook, I could have literally got hit by a train. So yes, make sure you triple-check the train times before wandering off down the tracks, if you love your life that is.
Day 6 - Note coffee, Train street (Again) and skyscrapers.


Day 6 did not go exactly how I had planned in my head. I did intend to visit a few more museums but still had a great day. You can't always stick to your itinerary. After a fairly uneventful morning, I linked up with my new travel buds Ollie and Tanya. Hey pals 😂. We went to a very cute cafe called Note Coffee where I got some of my treasured iced tea. The Note Coffee is 3 stories high with rooms of varying sizes. The staff give you a sticker or a post-it note with your order where you can write a message and stick it anywhere in the building. Literally, all the walls were plastered in notes, the floors, the toilets and the ceiling (don't even know how people reach up there.) The staff also pin a cute little inspirational message on your beverage which I thought was sweet. It's a bit of a gimmick but it's a nice air-conditioned shelter from the sweltering sun, with free wifi of course.
After sipping the remainder of my tea, we headed off to the Lotte Centre which is a skyscraper, 65 floors high. We went to the observation deck which gave us a nice view of Hanoi as well as some decent photo opportunities. The Lotte centre also has a restaurant on the same floor as the observation deck and quite a big supermarket on the ground floor. It's worth visiting once but it's not the best Vietnam has to offer.
I ended the night with another trip to train street. There are a lot of cool bars and cafes on train street so it's a pleasant place to hang out with the added bonus of the train passing.
Day 7 - Train street (Yep Again)
On my final day in Hanoi, I did some more site seeing and went to train street again. This was also the day I headed to Halong Bay, an idyllic UNESCO world heritage site.
"Yay or Nay"
Hanoi is in my top 3 cities in Vietnam. You can't come to this wonderful country and not spend a few days in Hanoi. I loved everything from the people, the food, the culture, it was simply amazing. It's fairly easy to navigate on foot and with a few broken Vietnamese phrases. I do wish I learnt the language more prior to my arrival, less locals speak English than in other cities however, they were always happy to help. Despite the stupendous time I had here, I don't think you necessarily need to spend a full week there as I did. You can spend that time in some of the other great towns surrounding the capital.
I'm not sure if it's because Vietnam have recently opened their borders but I really liked the fact that Hanoi wasn't too packed with tourists. It was nice not having to queue to enter museums and other places of interest. Coincidentally all of the private tours I booked there had a maximum of 3 people on them including myself.
Ps. Well done If you made it this far. That was about 3000 words. Crazy how I found writing essays at uni so long but I can happily waffle on about my trips. 😂
Happy Holidays ✈️